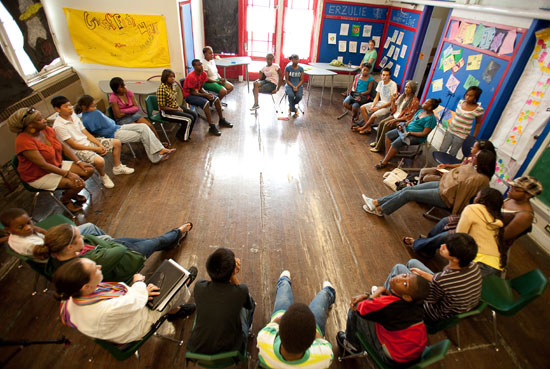 Rethink Circle photo by Colin M. Lenton
"When people see a dilapidated school, they don't want to live around it," wrote student designers from Kids Rethink New Orleans Schools, a group of students and supportive adults that formed to reimagine educational opportunities in the aftermath of Hurricane Katrina. "We understood this for the first time when we went to visit the Valena C. Jones School site. The building was boarded up, falling down and abandoned. So were the houses all around it. We felt shocked and ashamed that a public school in our city was still in that condition. Right there and then we decided to design a new Valena C. Jones School from scratch."
And that's just what they did.
The Rethinkers entered the "School of the Future Design Competition" sponsored by the Council of Educational Facility Planners International (CEFPI) and the National Association of Realtors®. This annual design competition works in collaboration with the U.S. Environmental Protection Agency, the American Institute of Architects, the American Federation of Teachers, the National Education Association, and more than 20 other associations and private companies to challenge middle school teams to think creatively about green school designs that enhance learning, conserve resources, and engage surrounding communities.
The Rethinkers took as their project the design of a new, green Valena C. Jones School. Their design included solar panels, recycling and composting programs, a school garden, and rain water collection systems for irrigation and to run the toilets. But their definition of a truly reinvented school included more than green technologies.
"Schools are second homes to most kids," they wrote in their narrative that accompanied their design submission. "A school has to be more than beautiful and 'green.' It has to respect students' dignity, and feel like a safe and peaceful place where people care."
What does dignity look like to the Rethinkers? It starts with "...a beautiful and friendly entrance instead of a metal detector...A team of students and teachers will greet students at the door, not guards...Our dream school also has a Success Center, a place that gives students the message that they are already smart and successful."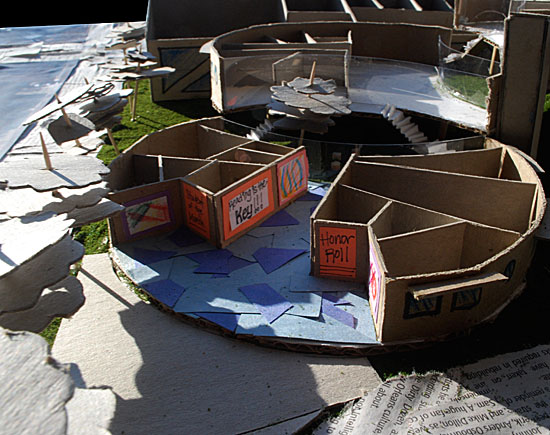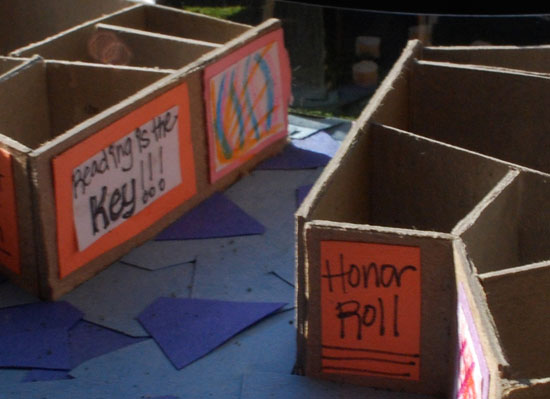 One of the most striking features of their design is its fundamental building component, the circle. "The circle is the symbol of unity and equality, a place where no one has power over anyone else," they wrote. Modeled after their own Rethink Circles, where students and teachers sit and share, discuss, and resolve problems, the school's design is intended to embody the wholeness and beauty of including everyone in a safe place.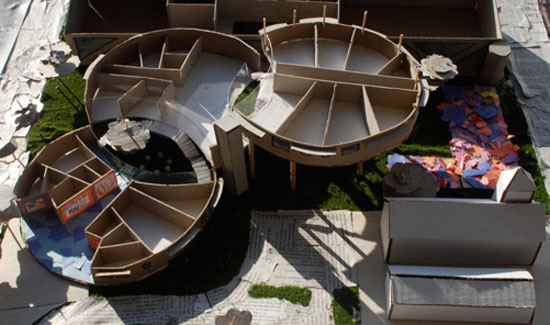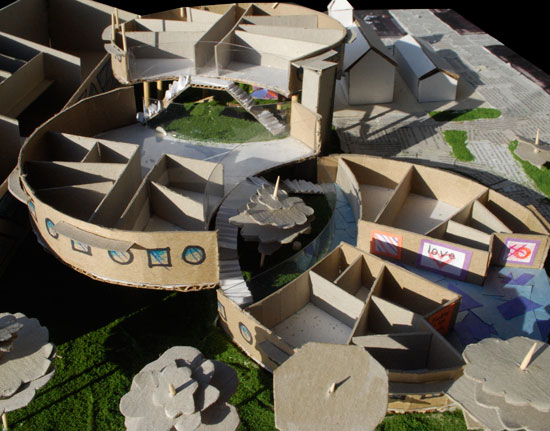 School model photos: Courtesy Brittney Everett.
The Rethinkers won the CEFPI Southern Region competition, placing first in a field that began with five school districts, and becoming the first school from that region to travel to Washington, D.C. for the national finals. In April 2010, they were awarded a commendation and $500 prize for their design.
"Facing a formidable 20-person jury can be a daunting experience for anyone, but these middle school students took them on without a blink of an eye," said a CEFPI official of the competitors.
"All this is about dignity," wrote the Rethinkers. "Dignity toward each other. Dignity toward the planet."
"If we can rebuild a school," they wrote, "we can rebuild a community."
Learn more about the Rethinkers, Rethink Circles, and their views on dignity: